Holly was so thoughtful, she sent the bears on their way with their safety in mind. Belle is in Florida, Brad is in Utah.
Here's Belle having a long awaited stretch.
Belle got to meet the gang here at my home, they were all waiting for a cookie, so more concentrated on me than each other.
After settling in she was ready for a nice long bath and a good nights sleep in a real bed, so she put on her jammies.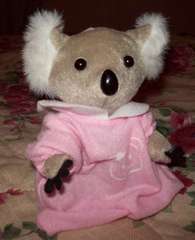 Today, a friend stopped by for tea.